[Continued from my ZRX1200R Blog]
Friday
As the ZRX1200R wasn't running properly after its full service at Robspeed, I made the decision to use the Fireblade for the RBLR1000: 1,000 miles in 24 hours with proceeds going to the Poppy Appeal.
A last minute check of the Blade showed that another fairing bolt had gone missing and also that the satnav wiring I'd put in for the TomTom Rider was hard-wired into the ZRX rather than separately attached to the battery. So I also needed to get some electrical connectors and cut the wiring on the ZRX.
After those small wrinkles, I fitted the TomTom and loaded myself up before heading off to Squires for log-in. Paperwork and briefing over, it was back to the hotel for a pint and to watch England's dismal performance against Algeria in the World Cup and then off for an early night.
Saturday
The alarm went off at 4.30am so I got up, had a coffee and a shower and watched the TV weather forecast: showers, Northerly winds, gale force at times but clearing from the West. Bugger!
I grabbed the packed lunch I'd ordered from the hotel and headed over to Squires to get myself signed off for the 5.30am start.
I had chosen the North Anti-Clockwise route: Squires to Berwick-upon-Tweed to Edinburgh to Wick (18 miles short of John O'Groats) to Fort William to Birch Services (Manchester) and then back to Squires.
My first fuel stop was at Gateshead at 6.44am. Quite cold but making good progress. The sky was very overcast…
On to Berwick by 7.41am. It was very windy and there had been a fair degree of drizzle, so I donned my race rainsuit (aka "the Gimp Suit") and we set off again. I say "we" because by now, one of my friends from the ZRX Owners Club, Ralph, and I were riding together.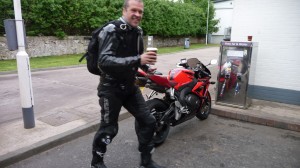 It was at this stop that I noticed that there was brake fluid leaking from one of the front brake hoses supplied and fitted by Robspeed. Not particularly good news as I was facing another 800 miles through the Highlands on a 180mph sportsbike with potentially no brakes…
We pressed on to the Dreghorn Link, Edinburgh ("Foghorn Dreghorn") by 8.53am for more coffee and for me to buy some brake fluid to top up the brake reservoir. Grim and Viper turned up too whilst we were taking a break.
Our next stop was a quick detour off the A9 in the Highlands for petrol, coffee and a hot pie at 10.33am in Dalwhinnie. The ride had been cold and wet at times, but it was now brightening up considerably: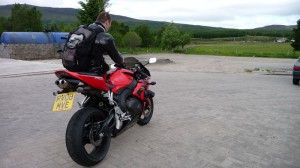 Knowing we had a long next leg up to Wick, our next fuel and coffee stop was at Dornoch, in Sutherland, north of the Glenmorangie Distillery at 12.16pm.
On then to Tesco at Wick for a sandwich and fuel at 1.31pm. This was our most northerly checkpoint and marked our halfway point, more or less. We bumped into Yid, Grim, Viper and John (the one-armed rider I know from my trackdays).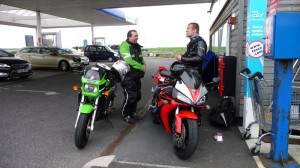 Then we headed off back down to Inverness in bright sunshine but still very windy. A terrific road too with lots of fast, sweeping bends. It was at this point that I began to resent having a deadline to achieve as I'd have loved to stop for photos of the stunning scenery. Maybe next time…
It had warmed up too so at Inverness at 3.39pm Ralph grabbed a Cornetto. I made do with a Double Decker and a coffee! We were looking forward to the next section: the blast along the lochs including Loch Ness from Inverness down to Fort William.
Loads and loads of fun on the road saw us safely to a beautiful and warm Fort William at 5.09pm despite not being able to rely on working front brakes: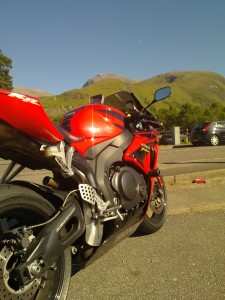 We knew that the next section of the journey – the road past Glencoe and Loch Lomond from Fort William down to Glasgow – was going to be breathtaking and it didn't let us down. Lots of wide open roads, twists, turns, ascents and descents. It was on the motorways around Glasgow that Ralph and I were separated thanks to his Garmin and my TomTom suggesting different routes, but we met up again at Bothwell Services on the M74 at 7.28pm.
We then rode on with our bikes casting ever longer shadows down to Southwaite Services on the M6 between Carlisle and Penrith by 8.53pm. By now it was starting to hurt a bit so a couple of Ibuprofen with the coffees helped. A change too from black visors to clear ones as we knew dusk was approaching.
So on to our last checkpoint: Birch Services Eastbound on the M62 which we reached by 10.20pm. More fuel, coffee and visor cleaning to clear the midges away:
And then on for a quick blast from there to Squires and a warm welcome when we rolled in at 11.09pm, the fourth and fifth riders 'home'. Just as well the welcome was warm, because temperatures had plummeted!
Well over 1,000 miles in 17.5 hours. I got my fuel log checked, filled in the paperwork to submit all my receipts and the like for the Iron Butt Association membership and then had a laugh and joke with the people who'd applauded our return.
Sadly Squires had shut up for the night, so no hot tea and hot dogs but fortunately one of the organising team made me a warm cup of tea on their stove which helped enormously. We saw Viper back in around midnight before I set off for one more fuel stop en route back to home near Cleethorpes by 12.45am.
Same again next year? In the meantime, my JustGiving page is still taking donations until 20 September 2010…